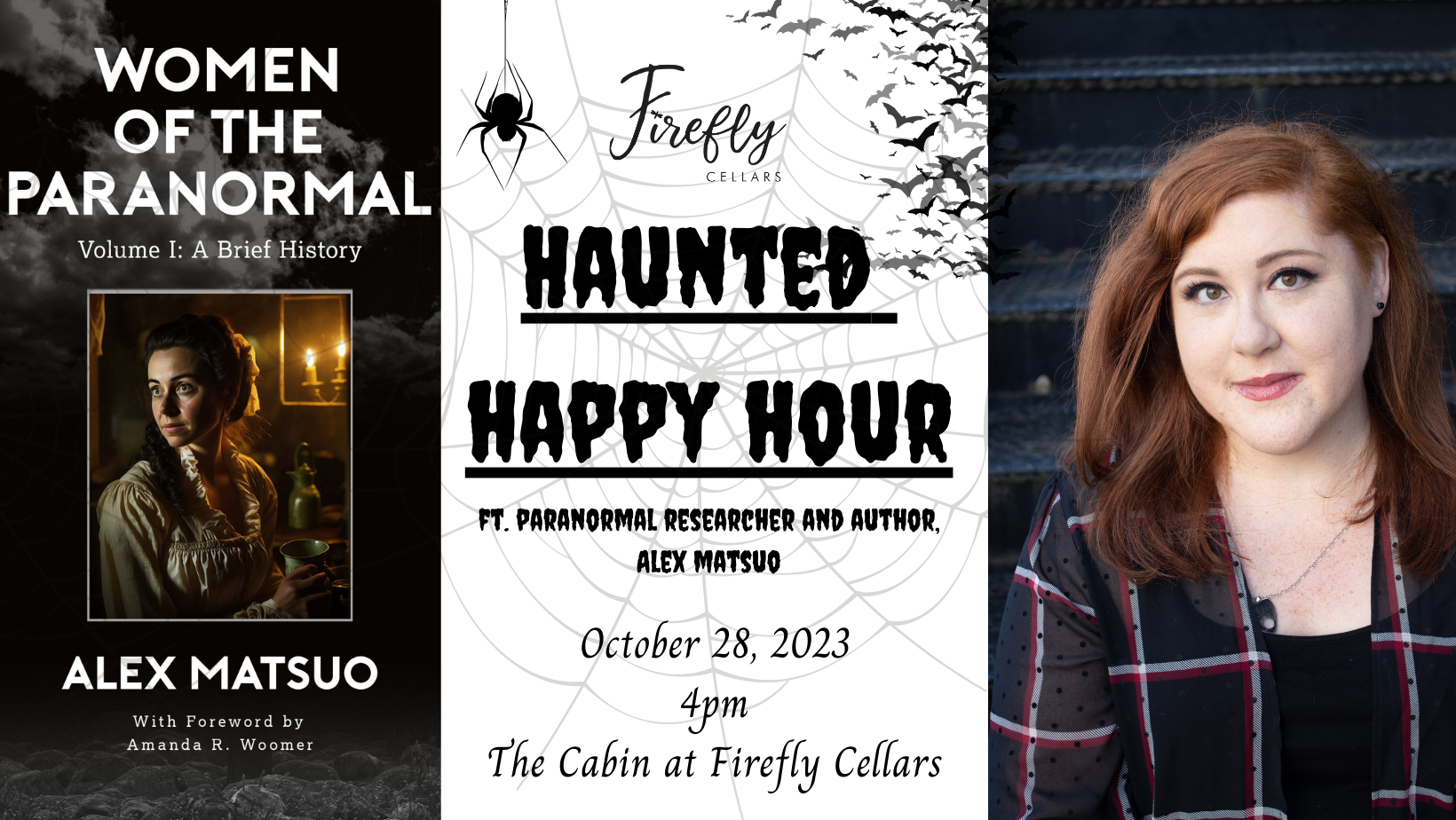 No better Halloween weekend event! Come spend some time in the Cabin at Firefly with Alex Matsuo, paranormal researcher and investigator. Alex will be hosting a spooky happy hour in the Cabin, focusing on the most haunted places in Northern VA! Have you wondered about the history of our beautiful area, and what is lurking near where you live? Alex has answers for you! Come prepared to make new friends, ask all the questions, and enjoy some spooky stories while sipping on your favorite glass of Firefly wine. Everyone will receive a copy of Alex's book, "Women of the Paranormal."
Ticket includes: copy of Alex's latest book, glass of Firefly wine, and light snacks. Event attendees will also receive an additional 10% off any tasting room purchases that day.
ALL TICKET SALES ARE FINAL. While non-refundable, your ticket may be transferred to a family member or friend if needed.
About your host: Alex Matsuo is a paranormal researcher, investigator, and author. She is the founder of the Association of Paranormal Study and runs The Spooky Stuff. Alex is known for being outspoken about inclusion and diversity in the field and raising visibility on marginalized groups within the field; past and present. Alex has recently been featured in the Tubi documentary, "Scariest Places in the World."
Alex will be featured in the new upcoming show, Paranormal Revenge. Her harrowing story of her ordeal with a spirit attachment was featured in the third season of Haunted Hospitals in Episode 12 titled, "It Followed Me Home." She has also been seen on Travel Channel's "Most Terrifying Places in America." Alex has written several books about the paranormal including, Women of the Paranormal, The Hamptonville Hauntings: Ghosts of the Trivette Clinic, One Bed Over: A Hospital Haunting, The Brave Mortal's Guide to Ghost Hunting, The Haunting of the Tenth Avenue Theatre, More than Ghosts: A Guide to Working Residential Cases in the Paranormal Field, and The Haunted Actor.
Alex holds an MA in theatre from San Diego State University and currently resides in Arlington, Virginia. She has been featured on KPBS – San Diego, Fox News, and The Washington Post for her various endeavors. Finally, Alex is a member of the Daughters of the American Revolution through her ancestor, Joseph Toler
Tickets–