Titles and Tastes: A Book and Wine Pairing Event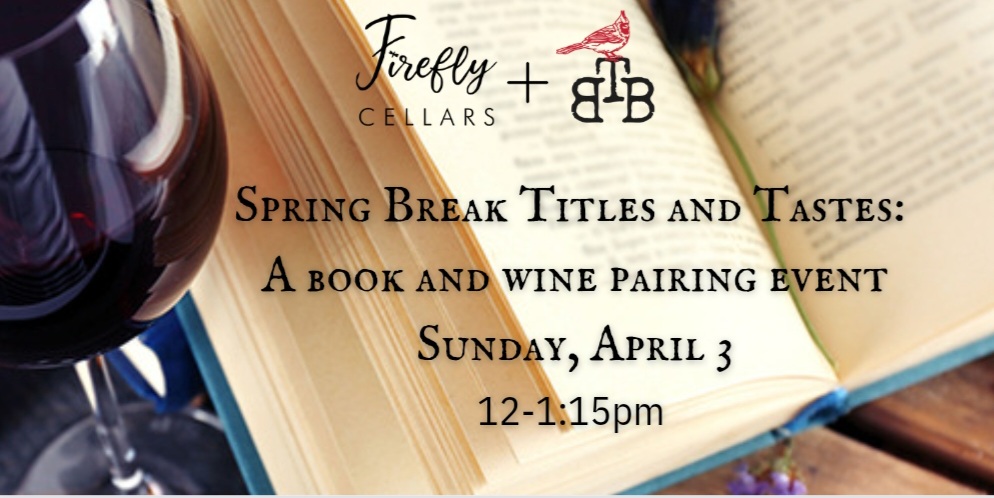 Going on a spring break trip? You need new books. Staying home for spring break? You need new books, and DEFINITELY need some wine. Join us for an intimate afternoon of wine tasting and shopping some of the newest books on shelves, with a tasting of six Firefly Cellars wines, paired with six books hand picked by Birch Tree Books. There will be many other books to shop outside of these six books as well!
Your ticket includes a wine tasting of six wines, a full glass of wine, snacks, AND a $10 book credit toward any book purchase! Plus, any ticketholders to this event will get an extra 15% off any wine bottles purchases that day, so plan to spend some time in the tasting room after your book and wine experience!
This event will take place in the Cabin at Firefly Cellars, the coziest backdrop for all things reading and wine.
There are very limited tickets to this event, so grab your spot now!
https://www.eventbrite.com/e/spring-break-titles-tastes-a-book-and-wine-pairing-event-tickets-297294384507?fbclid=IwAR0prCfh5yJX6bx1xrrPNNb277y0qGQbZiIp8_U0koyuY6oGcuknyFwvqLY