Wine and Cheese Happy Hour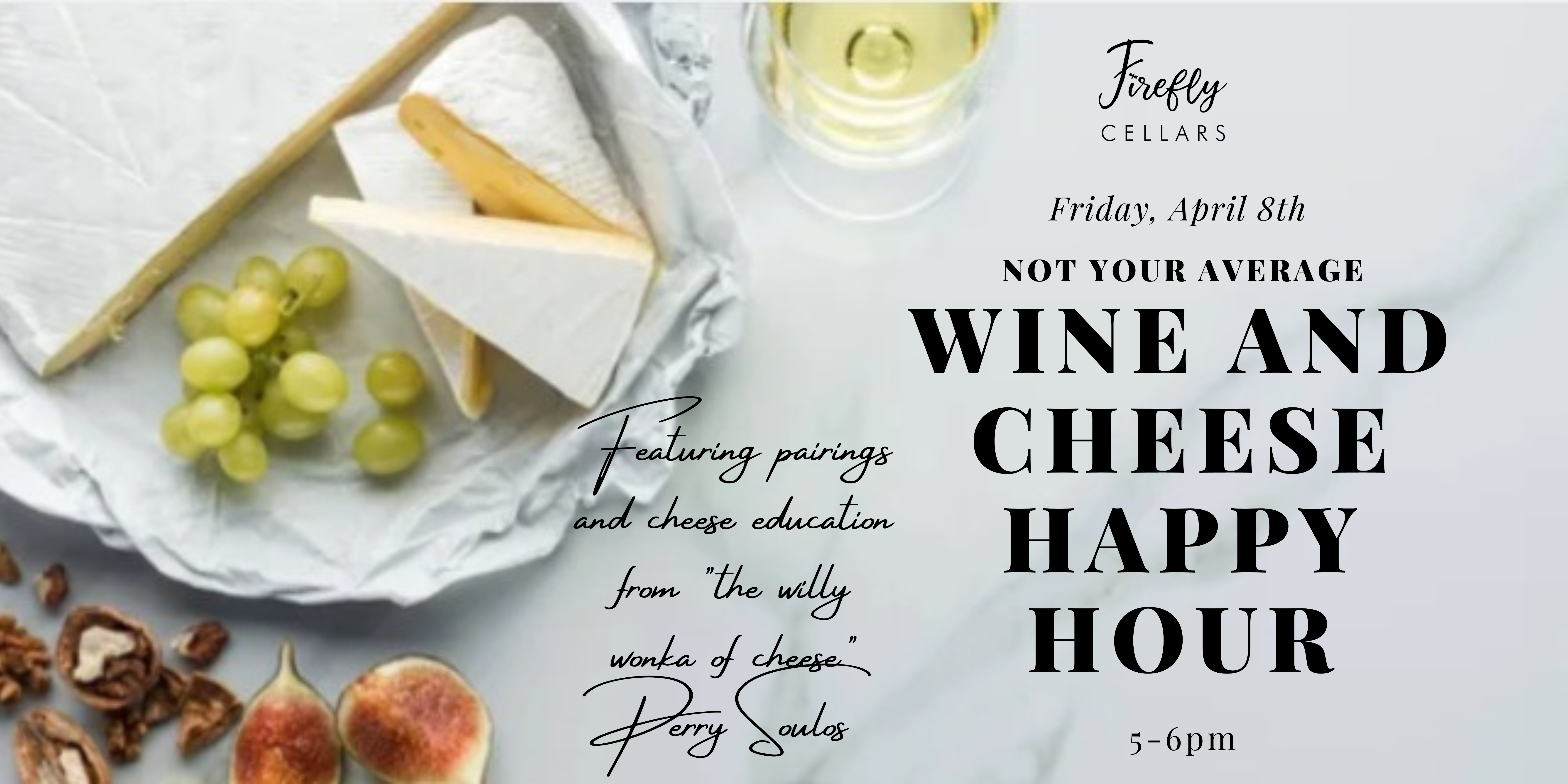 Purchase tickets here:
https://www.eventbrite.com/e/wine-and-cheese-happy-hour-tickets-288075701177
Love wine? Love cheese? The answer is obviously a resounding YES, so what better way to celebrate the end of a long week than with both? Better yet, enjoying them with the "Willy Wonka of Cheese," Perry Soulos, as he guides you through six Firefly wines and an array of cheese (and other things) that pair perfectly with each. Come prepared to ask questions, to learn more than you ever knew about cheese, and to make some new friends!
This event will take place in the Cabin at Firefly Cellars. Limited number of tickets are available to ensure that each guest gets a quality experience.
You can read more about Perry below:
https://culturecheesemag.com/blog/cheesemonger-tales-perry-soulos-willy-wonka-cheese/
"My career began working behind the cheese counter of my hometown shop Arrowine in Arlington, VA as a high school student in 2001. I have donned many hats in the merchandising process over the past 15 years of industry work.
Over the years I grew the cheese and meat selection a Arrowine to one of the best in the Washington DC metro area. And we became mutually respected and praised with well known nationally recognized cheese shops.
I won first Place at the inaugural Cheese monger invitational in San Francisco (Jan. 2014) is what turned me into a "cheese for life" kind of guy. I won by scoring the highest point total from a combination of timed challenges besting America's most talented cheese professionals. The testing rounds included lengthy multiple choice tests, a blind taste test, cutting, pairing with foods, wrapping, selling, showmanship and sign making beating America's most talented cheese professionals.
June 2015 and 2017, I represented team USA at Mondial du Fromage which is the International Cheese professional contest. It was held in Tours, France. I was one of only 3 contestants from the US and placed 8th place overall both times. Imagine a grandiose Food network show where the best people in cheese compete in very challenging events all while being filmed and in front of a crowd of hundreds.
I have acquired a tremendous depth of knowledge from on-site training and many mentors. Every summer/ winter I attend the Fancy Food Show and Cheese monger Invitational in New York and San Francisco. I would search for new and exciting cheeses and charcuterie to share with my customers.
I now work for Euro USA overseeing the Mid-Atlantic office, Euro USA is an importer and distributor of all types of fine foods. I get the pleasure of working with several key food accounts in our region."